Welcome to the Retaining Wall Pros of Wellington FL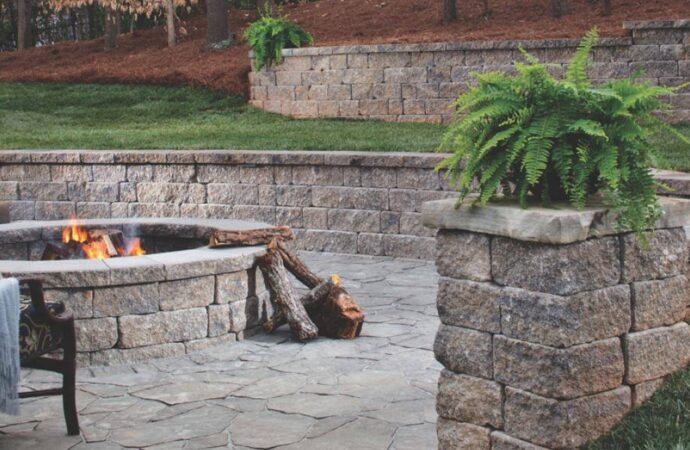 There are many tasks involved in designing and building retaining walls and all details need to be handled properly and by qualified retaining wall contractors in order to get a final result that is durable, long-lasting and stunning. The final result will also affect how your lawn and property look, so it is important to find the balance between functionality and aesthetics. Retaining walls can be required where soil isn't able to hold down naturally or by itself. This usually leads to soil erosion, water stagnation or it could be drained to the wrong areas or spaces. This can cause serious damage to your landscaping, and may have unintended consequences. Retaining Wall Pros of Wellington has over 17 years of experience in retaining wall design, construction and repair. We can help you take care of all your problems and provide an aesthetical solution.
We pay attention to every detail so that your property's retaining walls are functional and beautiful. If you have large-scale projects in your hands such as building a wall in the middle of a road to support slopes, or prevent landslides in certain areas, we can be there for you. The list of needs and purposes for a retaining wall can be a bit short, but the options of where one can be built are usually limitless as more individuals come up with ideas to use them properly.
Retaining wall design and installation are two of the most sought-after services in Wellington and nearby areas. We also provide maintenance and repairs throughout Florida so your wall, whether it was built by our team or not, can continue to perform well and be on good shape even after decades of use. 
We can provide any necessary post-services for your wall. Although they may not be needed very often, they are essential to the wall's durability and longevity and to ensure your investment and hardscaping feature ends up being the most durable and cost-efficient of all.
We are here to assist you. Every wall is made with the best materials and will last many years. There's no reason to let a wall "die" due to poor maintenance or rely on other contractors when we are right here for you and ready to deliver the best services in the area.
The Question Is: Why Would You Need a Retaining Wall?
Retaining walls can be used to keep soil in place and prevent water from draining or diverting to slopes and spaces where landslides can take place or cause damage to the entire landscape. Many people also use them to improve their property and add a touch of nature to their landscaping. 
The right walls can also be used to manage large-scale projects such as retaining soil to prevent landslides from occurring in roads and public areas and when constructions or excavations take place. It is a matter of perspective and making sure you understand what you need and why a retaining wall would be the best option.
Wellington is a popular place to build retaining walls. You can use them to prevent erosion, drain water, and stabilize slopes in particular areas or the whole property. There are many reasons why you may need one but what you ought to remember is that every project and case is different, therefore, don't expect to use the same type as others or your friends just because it works for them.
If soil erosion is an issue on your property, retaining walls can be a smart investment. If you need to divert water to other areas or spaces in your place or property, a retaining wall remains to be the answer. Our team at Retaining Wall Pros of Wellington can help you to build them all year long with the best stones and most durable materials so you are able to have an investment that will last for over 5 decades easily.
It's more than simply putting stones where they will work or placing the materials of the specific type of wall you choose. Our professionals will assess your property and help you to prepare the ground, go over the design you wish for the wall, and ensure that both functional and aesthetical needs are met.
How Do Retaining Walls Work?
How they work is quite simple and the structure and engineering behind them won't change much no matter what type of wall you choose to build or wish to install in your space and based on the project you have in your hands.
One wall is built to prevent soil and rocks from moving behind the wall and causing landslides or just making slopes dangerous. It is important to carefully build the wall to ensure stability and support. 
It is also crucial to contain all elements that could lead to a landslide, or other problems. This will keep the soil from becoming unstable and loose. This prevents erosion and water drainage and it is possible for water to flow through some areas between rocks but not entirely.
You want your wall to be strong enough to hold on to everything while not compromising the soil or condition. It should actually enhance it and guarantee a stunning result for the hardscaping and how you wish to make the wall and whole area look.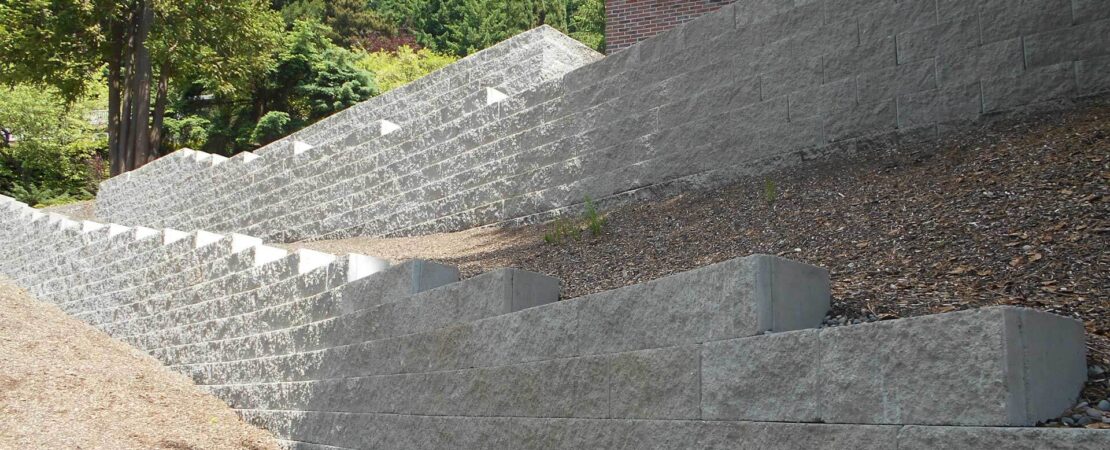 In terms of how they work, each one will fulfill the same purpose for retention and water diverting, what changes is how each is built. Cantilever walls rely on steel bars to the sides, while gravity walls only work with their own weight to remain stable. Anchored walls, stone walls, and so on, each has its own way of working, but all lead to the final result: providing stability and support.
The goal of the question "How long will it last?" is a different one as all retaining walls offer a similar durability and longevity as long as they are built and installed in the right areas. It all boils down to the proper materials and the knowledge of professionals who know how to use them.
Retaining Wall Pros of Wellington team can assist homeowners and residents struggling to manage their slopes or landslides. This is especially important when hurricanes or storms are coming to the coast.
We are a part of the solution because of our industry experience of over 17 years and our knowledge of the most recent technology. To ensure wall construction, we make sure that we work with reliable suppliers and distributors who provide high-quality materials and tools.
How Does the Water Diverting System Work?
Contrary to popular belief it is not about leaving spaces between rocks and stones that are hard to see. It involves diverting water away from slopes to ensure that water doesn't pool on your property, or in the area where the slope is so it would make landslides to take place.
A retaining wall will not only drain water more quickly from the place it is built, but also improve your property's drainage system. It will not collect water in areas that aren't needed and will continue to do so for as long it is built with this goal.
We can help you determine the purpose of your wall. Whatever it is whatsoever, it will serve to drain or divert water, but what will change is its ability to do so based on the type of wall you decide to build or we help you determine is the best for the task and your place. This will ensure your landscaping is protected and looks great regardless of what you do.
To help you understand the benefits of a wall, we will provide plans and detailed information so you can have a good understanding of how it will work in the final result.
Why Have Our Experts Working in Your Retaining Wall?
Our services are provided by top retaining wall contractors in the city and all over Florida with the purpose of delivering top results and making sure you have licensed, experienced, and insured people working on the construction, repair, or maintenance provided. 
This has allowed us to show more people how we can help with all aspects of retaining wall construction, repair, and maintenance in the region.
We have been working tirelessly for over 17 years to make sure every customer is 100% satisfied. If you want to have our team, keep this in mind if you have any questions and want to learn more of our services:
To ask questions, you can contact our team by email, phone, and in person.

At the first visit, we will meet you to assess your property. We will then help you plan the best course for building the wall.

During our inspection of your property, area or space, we will listen to your needs and preferences.

Our team will design your retaining wall and choose the best materials.

Once we have finished the first design, it'll be sent to you for review. We will wait to hear your comments on any changes or additions.

We will give you an estimate and a time frame for the project.

Once everything is approved and arranged, we will start working as soon as you give us the green light.

If it is a repair or maintenance what you need, the process is quite similar.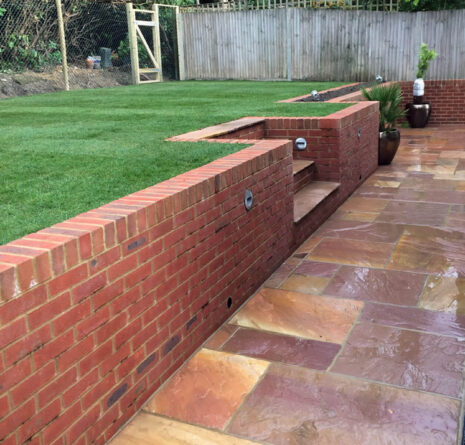 As you can see, we take the time to talk with each property owner and person in need of the service, so that we understand your requirements. We're here to help and to know more about you and what is needed.
In addition to the support we offer, we want to make sure you get the most for your money, and that you have no problems with the retaining walls once they are installed.
We can offer you several options, depending on your budget or your ability to pay. We don't want you to feel like this is a one-sided deal. We are more than willing to discuss the price and make sure that you are happy with what you get.
Walls can be a great investment, both in terms of their cost and the amount they will help. Our team will be happy to discuss pricing and costs with you. If you have any questions, don't hesitate to ask our team for assistance.
Construction, Repairs & Maintenance of All Retaining Walls
We provide new services for residents of Wellington and surrounding areas, and other locations that have landscaping problems or soil retention issues, or maybe just need and want to have a retaining wall built for aesthetical purposes.
Here's a list of everything we can offer so you are able to get the best results and services:
We Are Ready to Start Working on Your Project
We can assist with any type of retaining wall construction, repair, maintenance or project you have in your hands yet don't know how to approach or handle.
We understand that you might feel overwhelmed by the number of options available and the number of walls we can create for you. We have already mentioned that this is part our job and will walk you through each step, so there's no need to hesitate in asking questions when our contractors are here to ensure you understand each part and can make well-informed decisions.
When relying on us, the process for construction will be similar to this:
Take measurements and evaluate your space.

The design of the wall and the selection of the right materials.

We are happy to accommodate any preferences you may have regarding the material or style of retaining walls.

We will assist you in making the right decision if you are unsure which wall you prefer or which one is better for you.

Send the estimate and finalize the design.

Before we begin to work, we will wait for your approval.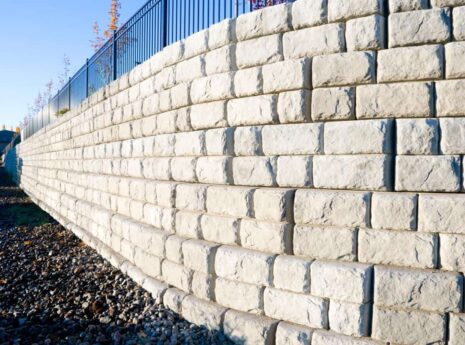 Most retaining walls are built or installed based on how much earth or soil they must retain and if there is water drainage or diverting characteristics in the area that need to be handled and controlled.
Before you make any decisions, we will make sure that you are completely informed.
Contact our team by calling, emailing, filling in the contact form or visiting our office. We will be there to help you every step of the way. 
How Much Does It Cost to Build a Retaining Wall?
It all depends on how big you want the wall to be, what type you choose, and your budget. It is a good idea to get an estimate if you aren't sure what you need and it is even possible to get an average for each type of wall as long as you provide some simple details as the approximate size of the wall or your space, and the type you want for it.
We recommend that you get in touch with our team to provide as much information as possible, so we can give you a quote that's close to what you need. Also, we can estimate the cost of actual projects.
It is best to let us assess your property and to see with our own eyes how much work there is and what it takes.
There are many factors that affect the cost of a wall. If you want to know if they are costly, an average per square foot would be more fitting and accurate considering that costs will always vary depending on who is requesting the service and the solution needed for the final result.
Retaining Wall Pros of Wellington strives to provide the best prices, without compromising the quality of our products or the experience of our retaining walls contractors have to offer you.
We can help you design a wall that fits your budget. Or, you can get more options to choose from so that you can find one that suits your preferences and adapts to your lifestyle.
This can be a lengthy process. If you need an estimate or an average, a retaining wall costs between $13 and $78 per square foot. Some people consider the average per linear foot.
It all depends on the materials they are made from and what kind of walls they are. Our team will provide you with information about each option. From there, you can learn more about which one is better or worse, and why you might prefer one over another.
Get all the help you need by contacting our team today. You don't have to pay anything for our assessment. All estimates and visits are completely free. Once the project has been decided, we will begin charging you for the work on your wall's construction, repair or maintenance.
Below is our list of additional services: