Commercial Retaining Wall Services for Wellington Businesses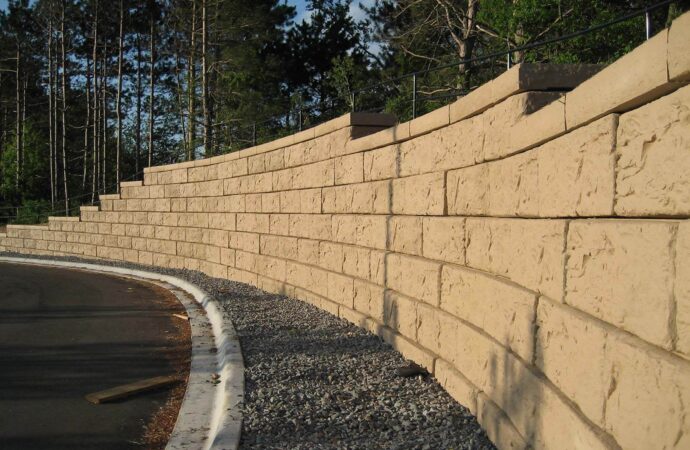 Retaining walls used to be thought only to be for residential properties as hardscaping grew in popularity and more homeowners started to rely on it to enhance their properties' beauty and value. However, commercial use is actually where everything started as retaining walls have more than aesthetical purpose and if you're having a hard time finding professionals that understand this, you have us at Retaining Wall Pros of Wellington, a team that understands how vital they are for business and commercial properties and have made sure to offer commercial retaining wall service to ensure you have all the assistance required.
Our team has helped individuals and companies design and build large-scale retaining walls that provide stability and support. We also have the ability to solve any problems related to soil or water that may be causing or could cause problems in your work site like constructions or excavations.
When a property is being built, we want it to be affordable and attractive to the eye. We are able to design and engineer earth retention systems to be used with our walls. These can be used to create new spaces or preserve existing ones in your buildings and commercial areas as well. They also allow for constructions in hilly areas. All members remain safe while providing stability and retention features.
Many Wellington businessmen and others have asked us for walls to surround their buildings. This is to keep rainwater out and to prevent flooding. Although retaining walls may be considered an aesthetic feature, they are essential to protect businesses from soil and water in areas that they do not need them to be.
What Are the Options for Commercial Properties?
These walls are usually tall and heavy and are used to create privacy and security, not only to deal with problems related to soil and water, but they indeed come in handy to add these benefits. 
Our team has designed many commercial retaining walls that give open spaces a new look. When you cross a sloped retaining wall, it creates new experiences and we want to make sure that you can use it as you see fit or necessary for your business or commercial land.
We will be focusing on walls that are designed to divert water or prevent erosion. They will likely be tall or medium-sized walls made of concrete rubble or sheet piles.
There are many options for retaining walls that can be installed on commercial properties or areas where there's yet to be something built. However, it all depends on how the landscape is designed and what your personal preferences are. 
It is crucial to make sure that you have all the necessary requirements met, and that there are no future problems. It is also important to think about the aesthetics of your project, but make sure you keep this last if you have other needs and issues to deal with first.
This is why it is crucial to assess your space and review the existing landscape, unless you are looking for changes, in order to identify the main problems (soil erosion water, etc.). So that we can choose the right type of retaining wall for you or more like help you in the process of doing so.
We understand that clients often prefer aesthetics to long-term performance, durability, and longevity of their retaining walls. We have more than 17 years industry experience and can guarantee the end result will satisfy both client requirements and preferences.
We can help you with any commercial retaining wall that includes:
Stone retaining walls.

Cantilever retaining walls.

Concrete rubble retaining walls.

Masonry walls.

Retaining walls made from sheet pile of steel or reinforced concrete.
What To Consider When Choosing Retaining Walls
Although design and functionality are important considerations when building retaining wall, price can also be an important factor.
As you know, retaining walls can be expensive. These walls can be costly due to the price of materials and the amount of work required to build them properly, especially if the
Costs and prices will vary depending upon the type of wall, its size, height and other factors. If you give us some information, you can get estimates before making a decision.
Prices for retaining walls range from $19 to $49 per square foot or $50 to $300 per square foot. The price of a retaining wall can vary depending on its material and who is performing the job.
Wooden retaining walls are becoming more popular than you may think. They can cost as little as $13 per square foot or as much as $30. Their durability and longevity are questionable whatsoever. We don't recommend them for large soil masses or water.
Wood walls, no matter how professionally built or installed, will never offer the same benefits that wall made of concrete, steel or masonry. It won't be any more durable than concrete or stone because it has been prepared and given all the necessary materials.
This is a costly option that may not be recommended when water draining or diverting is the main reason. It is possible to prevent soil erosion, but it is not always possible to stop it.
Retaining Wall Pros of Wellington uses concrete, stone, as well as other materials to build commercial retaining walls. We only use the best quality materials. Although this may mean that some products are more costly, we can negotiate lower prices and create our own products so businesses can have walls built without compromising their budgets or estimates. This is because we understand this is an investment and not a punishment.
Expect lower prices. Our team will give you an estimate after we visit the area or if you provide as many details as possible when you contact us.
We Can Work with Small- And Large-Scale Projects
We aren't limited to small projects. We have helped hundreds of business and commercial owners throughout the region. We have built walls more than 7 meters high and over half a mile in length.
All you have to do is ask for information and allow our team to discuss your requirements. You can view our previous jobs and walls so that you can see what we can do for you.
Below is our list of additional services: